Interview with Christen Kaplan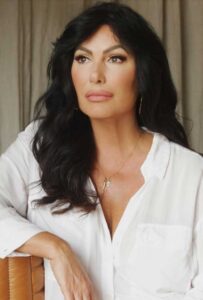 INTRO: Through the years we've witnessed famous sister combos - from the Andrew Sisters of the 1940's, to the glamorous Gabor Sisters in the 50's.  Tennis champions Serena and Venus Williams have dominated their sport for decades, and Estee Lauder executives - Jane and Aerin Lauder, carry on the business for their grandmother.
Now a new, dynamic sister team is stirring things up in the wellness and nutrition business. Christen Kaplan is Co-Owner with her sister Elizabeth Inman of two innovative companies, Love a Wholistic Life, Inc. and Integrative Wholistic Diagnositics, Inc.
Welcome, Christen.
A. Thanks for having me.
Q. Let me begin by asking: how did you decide to get into business with your sister?
A. The short answer is that like many Americans, our family has suffered loss due to preventable lifestyle diseases. My sister and I have seen the devastating effects that poor nutritional choices had on our own family members. I'd say that this has been a significant catalyst behind our mutual mission to help clients restore and maintain their health. It wasn't a matter of wanting to start just any business together. It has been a matter of joining together to carry out this mission as a team.
Plus, Beth is not just my sister and business partner. She's my best friend! So of course, we got excited about doing this together.
Q. It sounds like there is quite a story behind your passion. Would you tell us more about your journey that brought you to running two companies in the nutrition industry?
A. I've always had a fascination with what I call, 'the dance that nutrition and a healthy lifestyle do so harmoniously together!' Nature always seems to get it right! Right?
Q. I agree. So, how did you turn this fascination into a vocation?
A. Well, I've dedicated nearly twenty years (and counting) to researching holistic nutrition, understanding lifestyle diseases and discovering effective preventative healthcare measures in nutrition that ensure a high quality of life.
I became a Certified Personal Trainer and Nutritionist and went on to get my Medical Exercise Specialist Certification and other certifications related to nutrition, fitness and post rehabilitation.
I took some time off after getting married to have my youngest two kiddos'.
And then shortly after having my youngest child I was offered a position with one of the top fashion houses in world and became an Education Executive for them.
Q. Wow. That was quite a crossroads.  What was it like being an executive in such a high-pressure industry?
A. High pressure!
(Both laugh)
A. I committed my life to a rigorous executive corporate structure with two of the top fashion houses in the world. It was an amazing experience, but the unbalanced lifestyle came at great personal cost to me and my family. I knew it was time to make some changes and left Corporate America to follow my calling.
So, I went back to school again for my Holistic Nutrition Counseling Certification and Weight Management Certification.
Q. This explains a lot about your lifelong theme of celebrating nutrition and wellness. But you mentioned earlier a health crises your family experienced. Where does that part of your journey come into your story?
A. Throughout our lives, Beth and I had loved ones who fought every day with type 2 diabetes, heart disease, breathing problems, and immune issues, all associated with being overweight. We had family members who could not, no matter how hard they tried, win the war against the Westernized diet and portion sizes that sabotaged their health and bodies.
I was tired of watching people I love and care for dying of heart disease and type 2 diabetes complications unnecessarily. I remember watching my parents take a handful of pills just, so they could function on a day to-day basis.
One day I answered the phone call that I'd prayed would never come. It changed my family's life forever.  My dad needed to have a triple-bypass heart surgery, but the doctors were petrified to do the surgery because my dad weighed 575 lbs!
Q. 575 pounds?! That's astonishing. What happened? Please go on.
A. Yes, at that weight and in his health, surgery was most certainly a death sentence for him. He was type 2 diabetic, hypertensive, had high blood pressure, high cholesterol, decreased kidney function, and he could not walk more than a few steps at a time without being winded. He was not ready to die, and we were not ready for him to die.
My dad, by nothing short of a miracle, survived the surgery. I sat by his hospital bed watching this man who raised me, loved me, nurtured me and became my best friend and confidant barely breathing on his own attached to numerous tubes to help keep him alive. We prayed a lot before the surgery, after the surgery, and did not stop praying until he woke up.
He not only survived but he made the decision he was not going to take this second chance the God gave him and waste it. We partnered up and for the next three months I stayed in the Mid-West. I fired his dietician who thought it was a good idea to give a recovering heart patient 4000mg of sodium, (Really???) and together we buckled down and did this together as a family.
Although my dad wanted to fire me a few times he learned what he needed to know about nutrition and he eventually lost 375 lbs. It took him eighteen months, but he did it! It was not easy. Lots of tears, frustration, good days, bad days and a few "colorful" words along the way but he soldiered on and did not give up.
Eventually he was able to go off his diabetes meds, his blood pressure came way down, his cholesterol improved dramatically and most importantly his quality of live improved and he is living and enjoying his life with our family that he came so close to losing.
Q. That is an amazing story – with such inspiring results. It's great to be able to celebrate such a success. But I understand that you've also experienced a journey with another family member that didn't end happily. Would you be willing to tell us about it?
A. It's very hard story to tell, but Beth and I know that there are countless others who have lost loved ones prematurely. We want them to know we relate and we understand. Even more than that, we want people to know that we can help them turn their lives around before it's too late.
Our brother, Mike struggled with obesity and the resulting type-2 diabetes for many years and his health continued to deteriorate. He was morbidly obese and finally decided to lose the weight with my help. I guided him through our nutritional program and he was able to lose 50 pounds. We were so proud of him. And he felt good about his accomplishment and improved health.
Unfortunately, Mike went back to his old eating habits and gained back all the weight. His health was worse than ever and he had to go on dialysis. It was a wakeup call for him and he came to a decision to change his life.  Mike called me to say that he was ready to restart the nutritional program and take back his health with the goal to get off of dialysis. He wanted to be there for his young daughter and wife for the long-term.
But it was too late. Two weeks later, Mike died in his sleep at the age of 52. His heart couldn't handle the dialysis.
He lost the battle. He left behind his wife and daughter. All because of food.
You can see this is personal. Beth and I are passionate about helping others before it's too late for them.
Q. I am so sorry for your loss. I can understand how both your father and brother's experiences would make such an impact on you and your life direction.
A. That's right. It's because of our dad and brother and my clients like them that Beth and I do what we do. I personally have had my own battles with weight gain in the past and I know what it feels like to be unhealthy and I know what it feels like to be healthy. Most importantly I have walked the walk with nutrition and I know for a fact, hands down, that you can change your life, health, and body through nutrition.
Q. So, you and Beth co-founded Love a Wholistic Life – fueled with this passion to educate and help people achieve true, lasting health?
A. I'm so glad you used the word, "educate!" That is one of the big differences that sets our coaching and program apart from the rest. Our goal is not just to "train" people to eat nutrient-dense food. But we EDUCATE our clients so that they know exactly why they are eating each food. By the time they leave our program, they understand precisely what each food does for their body. And they realize why they stay away from other foods and what those detrimental affects are for their health. They have changed their entire lifestyle and mindset about food.
Q. Let me ask one last question that I'm sure our readers are all wondering. Would your program be open to anyone wanting to lose weight?
A. That's a great question. It's an important distinction of our coaching. Our journey fueled our passion for helping others get healthy and fit - but my sister and I wanted to do more. We focus our skills on those who really need our help; people with extreme weight issues and medical pathologies associated with being overweight and malnutritioned.
Most of these clients had serious medical circumstances that were either life-threatening or would be soon if they did not make some changes in their nutritional choices and lifestyle.
We set up our proprietary free Client Assessment tool so that we can identify those who we know we can really help and support. Anyone can go on our website and fill out this confidential assessment. We are focused on our calling to help those who need it most.  Anyone can go on our website and fill out this confidential assessment.
Q. What a remarkable story and life calling! Thank you for sharing it with us today.
A. My pleasure. Thanks for having me.